Soujourners Mural
Year: 2018
Soujourners Mural – Hugh & Marjorie Petersen Award for Art in Public Spaces
Overview
LOOKING FOR EITHER A SIGNIFICANT DESIGN FEATURE that was a direct response to the drought and our areas' changing climate or an art feature that adds to and embodies a commitment to the kind of community building exemplified in our community's response to recent disasters, this year's Hugh & Marjorie Petersen Award for Art in Public Places honoree offers elements of both. Titled Sojourners, the mural by Gus Harper located at 126 East Haley Street is an outstanding work of art that beautifies the neighborhood.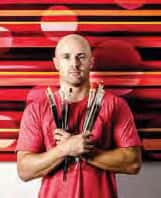 The size and juxtaposition of the color scheme make it a unique asset in an eclectic neighborhood and marks an important and distinct transition from the downtown area to the more industrial East Haley Street. The mural's silhouettes of people blend subtly with abstract shapes and images enabling viewers to make deeply personal connections between human beings and our environment. The longer one observes the mural, the more questions come to mind.
"I think how we view the world impacts everything around us. My goal is to share the spectacular in the everyday. The simple, direct approach often tells a profound story," Harper notes.
Sojourners is a provocative piece that recognizes we are living in a time of transition, whether it be the neighborhood around the mural or the global impacts of climate change and global warming. Heraclitus said, "you can never visit the same river twice." In the same tradition, you will never view the same mural twice, no matter how many times you visit.
Winners
PROPERTY OWNER: Brian Lezak
MURAL ARTIST: Gus Harper