Santa Barbara Beautiful Tree of the Month – December 2019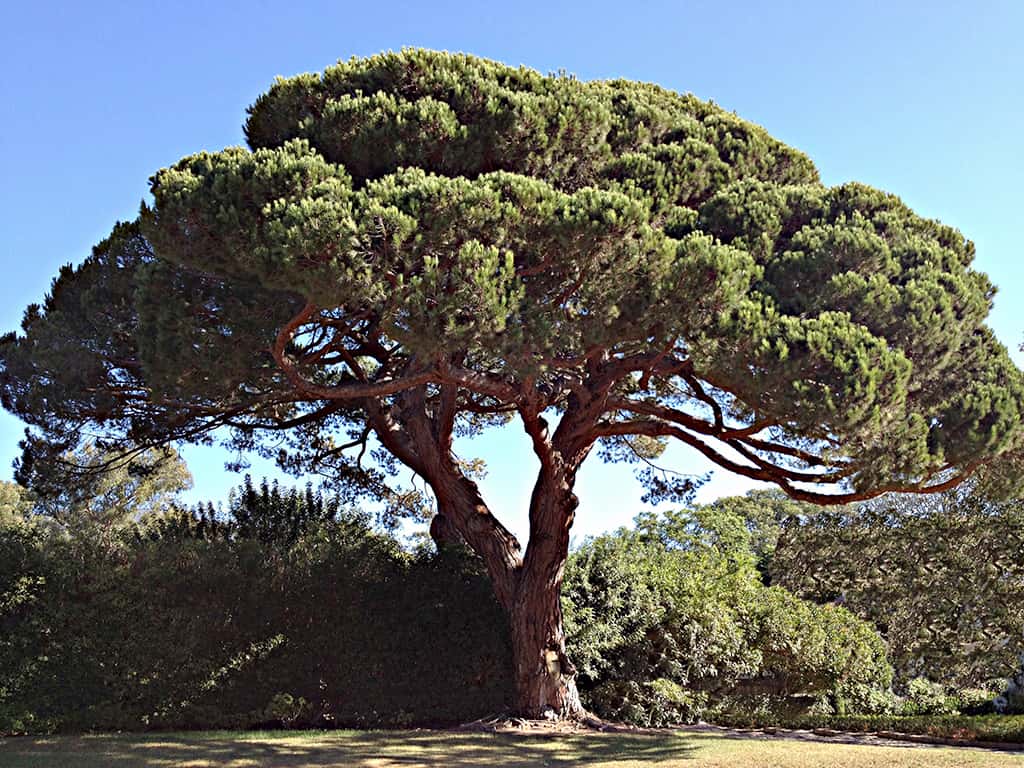 When local residents hear the words "Stone Pine", they instantly think of the massive trees on Anapamu Street that, for many years, formed a continuous arboreal canopy over the roadway from Milpas Street to Garden Street. Even though many of these impressive giants sadly have been lost, due to old age, drought, and storms, enough of them remain to remind us of the natural wonder of these 100+ year old iconic pines.
Stone Pines were planted by two early Park Directors for the City of Santa Barbara. In 1908, Dr. A. Boyd Doremus propagated them from seed – and put them in as street trees on either side of Anapamu Street from Milpas Street to Olive Street. In 1929, Ralph T. Stevens added more from Olive Street to Garden Street. These splendid trees have been designated as an "Historic Landmark" by the City. A living legacy left to us by these pioneering horticulturists!
This coniferous species has several common names: Stone Pine, Italian Stone Pine, Parasol Pine, or Umbrella Pine. The formal botanical name is Pinus pinea. The genus, Pinus, is Latin for "pines"; the specific epithet, pinea, is Latin for "pine cone". They are native to the northern Mediterranean coastal region – from Portugal and Spain to Turkey and Lebanon.
These picturesque trees have a rounded, rather shrubby, form when young but develop a uniquely flattened, umbrella-shaped, crown as they mature. They are fairly slow growing, generally reaching a height and spread of 40-60 feet and, rarely, may stand up to 100 feet. As they grow, they lose their lower foliage but frequently retain several large limbs that form an up-reaching structure. One of their most distinguishing characteristics is the strikingly beautiful bark which is reddish-brown to orange and which forms deeply fissured vertical broad plates on mature trees.
Bright-green 4-8 inch long needles appear in bundles of two, turning gray-green with age. However, the foliage of young trees is markedly different from the foliage of mature trees, starting out as juvenile, single, 1-2 inch long needles in a blue-green color. It is this juvenile foliage that makes the Stone Pine a favorite choice for small potted living Christmas trees.
The shiny light-brown cones are broadly oval, 4-6 inches long and 3-4 inches wide. They remain closed on the limbs for many years and can take 36 months to mature, longer than any other pine! The cones produce seeds, about 7/8 inch long, which are brown with a powdery black coating.
Each seed has a ¼ inch long "wing" and can be disbursed by the wind, but the seeds are mainly harvested by birds, squirrels, and humans! The very hard seed coatings are the basis for the word "stone" in Stone Pine – and must first be removed to reveal the edible pine nut meats (commonly called pignolis) inside – these are prized as a culinary delicacy for their largish size, delicate taste, and creamy texture. Pignolis have been eaten by humans for over 6,000 years – and are still a food staple in many Mediterranean countries. They can be eaten either raw or roasted – truly, the tastiest edible pine nut.
Once established, Stone Pines are fairly drought tolerant. They accept a wide range of soil types, including both sandy and clay, but need good drainage. They are perfect for our Mediterranean climate, since they prefer cool summers and mild winters. All along the California coast, they grow well and have been frequently planted.
Stone Pine can be used as a single specimen tree in a landscape design – or massed in a group to stabilize hillsides. When planting, be sure to give them plenty of room, because their roots tend to grow near the soil surface and can heave up adjacent hardscaping quite dramatically.
Young Stone Pines and mature specimens can be seen in the 300 to 800 blocks of Anapamu Street, the 700 Block of Quarantina Street, and between Ortega Park and Santa Barbara Junior High School. More beautiful specimens can also be seen on Carpinteria Avenue and on 8th Street in Carpinteria.
Tree-of-the-Month articles are sponsored by Santa Barbara Beautiful, whose many missions include the increase of public awareness and appreciation of Santa Barbara's many outstanding trees and, in a long-time partnership with the City Parks & Recreation Department, the funding and planting of trees along the City's streets – a project which has resulted in the planting, to date, of more than 13,000 street trees.
Article and photos by David Gress